GET BACK IN TOUCH WITH THE GREAT OUTDOORS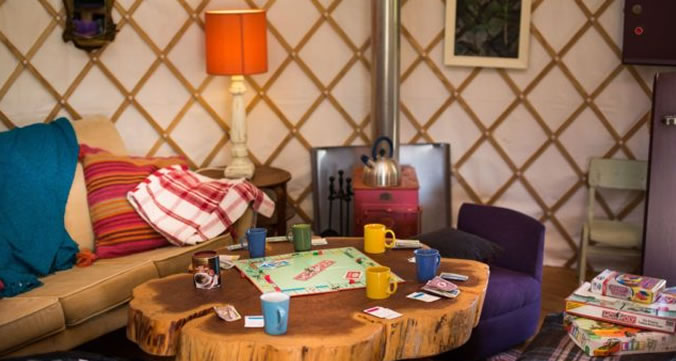 INFORMATION
For those of you who are looking to get back in touch with nature without losing your 'home comforts', we welcome you to experience the wonderful world of glamping, a luxurious infusion of glamour and camping (glam camping).
The Yurt village offers four spectacular interior designed medium and large sized Yurts. The Yurt village itself provides self-catering facilities which are exclusive to Yurt guests. So whether you book one or all of the Yurts, everything is provided for your perfect surfing holiday – just bring your holiday gear, food and drink.
Choose from Medium and large-sized Yurts, which comfortably sleep from 2-4 people, and offer everything you need to get back in touch with the great outdoors.
The yurt village is the perfect choice for anyone looking for relaxation and rest after a day of surfing, fitness or Cornish adventures!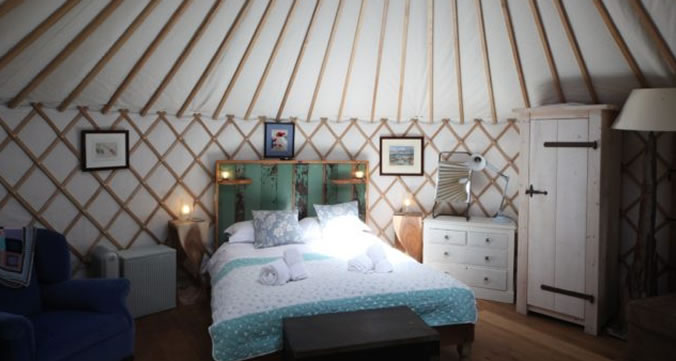 FACILITIES
– A double bed with Sumptuous Egyptian cotton bedding
– Ample additional comfy seating.            (Sofa and occasional beds can be provided in our large Yurts accommodating up to 4 people.)
– Bath and hand towel 
– Log burner in each Yurt, stove kettle and some kiln dried wood to get you started
– A cooler box will be provided in each Yurt to keep the breakfast essentials cool
– TV, DVD and Wi-Fi
– Electricity
– Small table for private dining
– A cot upon request
– Kiddies play area and outdoor pool
– Use of the indoor swimming pool, games room and cafe
– Communal Yurt with its comfortable sofas and beanbags, complete with drinks fridge, large flatscreen television and a selection of board games and books
The village 'cookhouse'
A large communal dining table seating 12 takes centre stage in the cookhouse. Here you will find every utensil you need to prepare a three-course feast or alfresco snack. A 'wash house' will cater for your every washing requirement, having a washing machine/dryer at your disposal. Outside racks for drying are also available for guests to use.
Each Yurt has its own individual secure food storage cupboard within the cookhouse and unlimited use of a communal refrigerator, freezer, cooker, microwave, dishwasher, sink and hob.
Washrooms
The 'Shepherd Huts' comprise of shower, toilet and wash basin to one and toilets and washbasins in the other. A further shower/wet room is located near the cookhouse, plus an outdoor shower. A gorgeous rustic outdoor tub, gently heated by a log burner provides the option of a warm relaxing soak.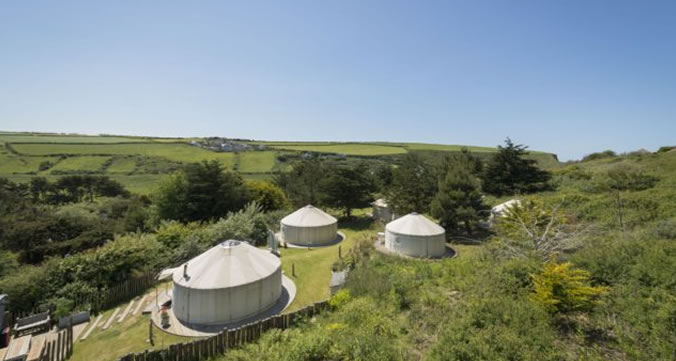 PRICES
MEDIUM YURTS – SLEEP 2 PLUS COT
Price: From
LARGE YURTS – SLEEP 4/5 OR COT
Price: From
ACCOMMODATION BOOKING ENQUIRY
Please let us what you are looking for and we will help you to create your perfect holiday with us in paradise