Ohana™ Cornwall Family Surf Lessons in Newquay
Enjoy a family activity like no other. Create memories to last a lifetime in the most idyllic setting on the Cornish Coast
As Ohana™ Surf and Fitness is family run it will come as no surprise that sharing our love of surfing with other families is one of our specialities. 
Our instructors are equally at home coaching lifelong surfers as they are newbies. We have been introducing families of all backgrounds to the magic of surfing for years in Cornwall's home of surfing, Newquay. 
Our family surf lessons are private lessons for just you and your loved ones, under the guidance and tuition of our passionate and highly experienced coaches. 
Our family surf lessons not only focus on teaching you the fundamentals of surfing or improving on your current surfing level, we also understand the importance of educating you and your loved ones on how to stay safe in the sea, while building your confidence amongst the waves. While our family surf lessons are focused on family fun, we also appreciate the importance of each persons individual needs, according to their surfing level. 
Ohana™ Surf and Fitness provide all your equipment needed (surfboard, wetsuit and leash) along with expert tuition.  All you have to bring is yourselves, your swimsuits and family cheer!

About Your Coach
Tehillah McGuinness is a South African Pro-Surfer and founder of Ohana™ Surf and Fitness. Tehillah is a sponsored athlete, formerly ranked number 3 on the UK Pro Surf Tour Rankings for shortboarding, alongside her top 10 European ranking in the longboard division . She also had a top 10 finish at the South African Championships.
Besides competing at a top level, Tehillah has dedicated her life to spreading her passion for surfing. She spends her time passing on her knowledge and experience that she has gained from competing at the highest level.  
Ohana™ Surf and Fitness is a family run business. Our surf instructors thus love taking family groups under their wings and teaching them the fundamentals of surfing in a relaxed and professional environment. Ohana's teaching philosophy is based on creating joyous family memories. 
All of Ohana's surf instructors are internationally qualified coaches as well as trained lifeguards, with decades of teaching experience between them. They are equally proficient at coaching established surfers as they are first-timers.  
Family Surf Holiday in Newquay, Cornwall
Pricing, what's involved and everything you need to know when you book your exciting family surf holiday in Cornwall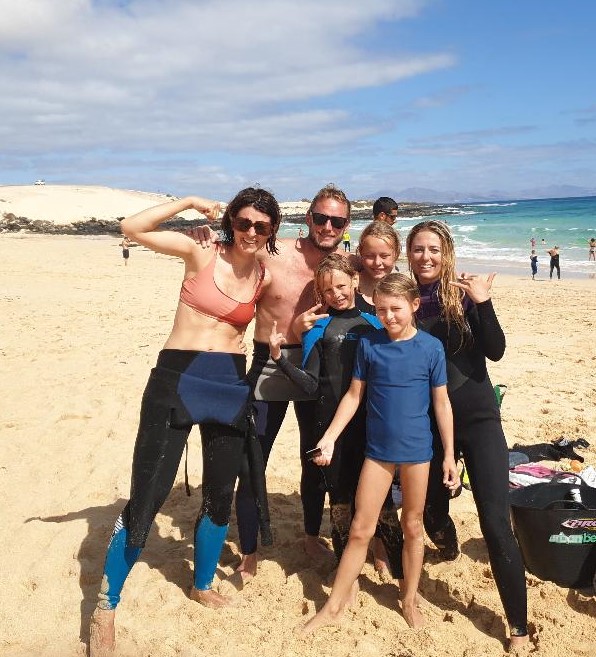 Contact us to book
Family fun for everyone
Includes theory & practical  tuition with pro surfer & surf coach Tehillah McGuinness
All ages and levels of surfing experience welcome
All equipment provided – surfboard, wetsuit, leash, wax 
Typical duration  2-4 hours
Flexible lesson start times
Speak to one of our team about enhancing your package with e-bike tours,  catamaran cruises, snorkelling excursions and more.
[contact-form-7 404 "Not Found"]