Ohana® Fuerteventura Surf and Yoga Holidays in Corralejo
Bringing together surf and yoga, for the ultimate health and wellness experience. Enjoy soul-centering yoga, while also experiencing some of the best waves europe has to offer
Ohana's® Surf and Yoga package is one of our most popular and enjoyed combos, as you enjoy decompressing your body after a day amongst the waves. Enjoyed in the mild climate that Fuerteventura offers all year round, your surf and yoga holiday is sure to live long in your memory. It is an experience that could set the tone for life.
Beautiful and sunny Fuerteventura is known for having some of the best waves that Europe has to offer. Regardless of your experience in surfing or yoga, our team have the skills and expertise to help you kickstart a lifelong passion with the waves or take your surfing to the next level, while energizing your body and mind through the power of yoga.
Our Surf and Yoga packages are tailored to your goals and length of stay on the island. Our yoga sessions cater for all levels and are taught in groups, with the option of private 1:1 tuition. Choose between group surf lessons or private 1:1/private group surf classes. Ohana® Surf and Fitness provide all equipment needed for your surf and yoga classes. 
Our Surf and Yoga Packages are not all-inclusive retreats. Once your yoga and surf lessons are finished, the rest of the day is yours to unwind and take in the island at your own leisure. With that being said, our team will be more than happy to help you enhance your package with additional activities, please see below. Various accommodation options are also available.

About Your Surf Coach
Tehillah McGuinness is a South African Pro-Surfer and founder of Ohana® Surf and Fitness. Ohana® Surf and Fitness brings together two of her great loves. One as a former long-distance Olympic-hopeful runner and one as a Pro Ranked UK and European Tour Surfer. 
Tehillah is a sponsored athlete, celebrity fitness trainer and motivational speaker. Tehillah has studied and worked in the health and fitness industry for over ten years. All surf and exercise packages reflect Tehillah's personal formula for a life of wellness and happiness.
Tehillah and her team are all internationally qualified surf instructors. Collectively, they have decades of experience in both competing and teaching surfing. To ensure maximum safety, all our instructors are also qualified beach lifeguards. 
Tehillah and her team pride themselves on having family values at the core of everything they do. In-house, we have qualified yoga instructors, life coaches, a dietician with over 20 years of experience, STOTT Pilates instructors, personal trainers as well as outstanding surf instructors, who are ready to share their love of the sea and the great benefits of an active lifestyle with you.
Your Ohana® Fuerteventura Surf and Yoga Package
All you need to know when booking your exciting surf and yoga holiday experience in the Canary Islands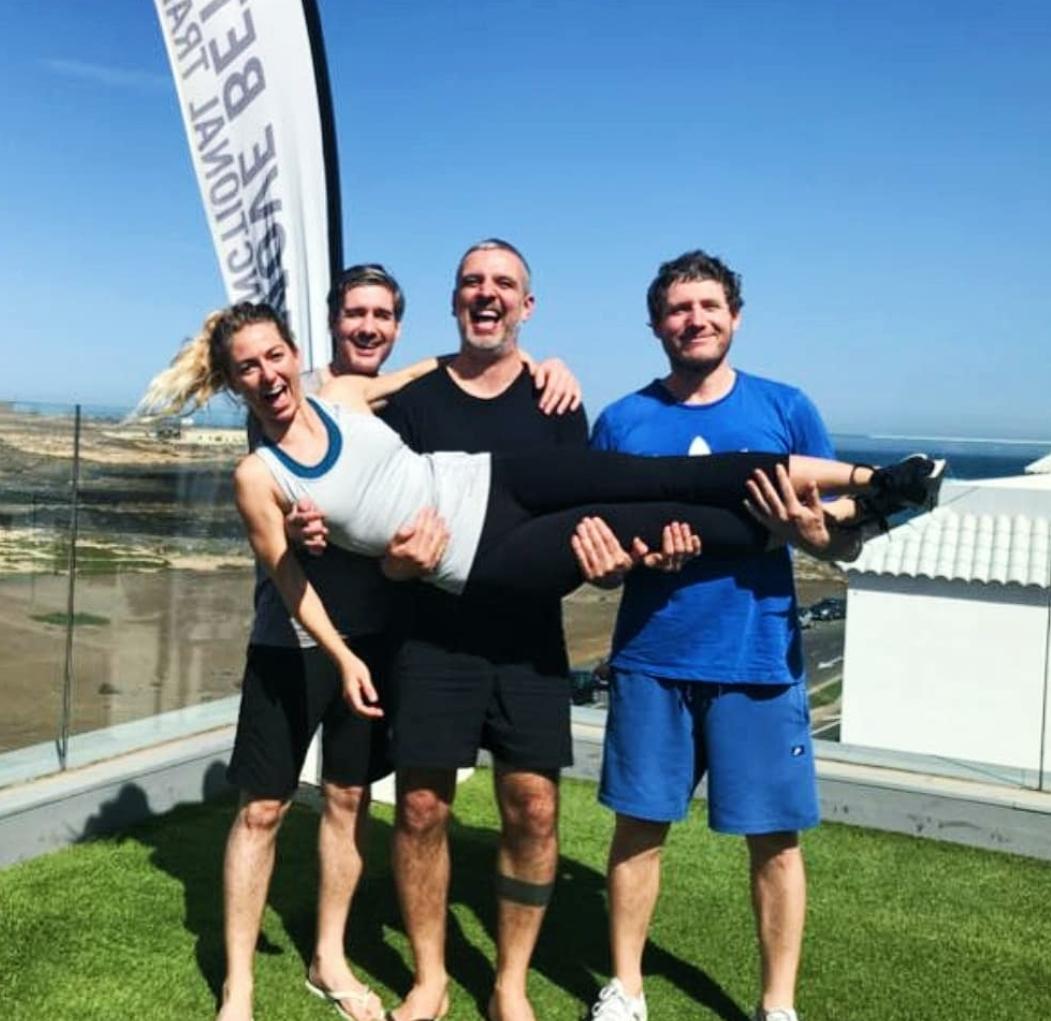 Contact us to book
Custom designed surf and yoga packages, tailored to your goals and length of stay
Flexible surf and yoga lesson start times
Surf lessons include theory & practical tuition with pro surfer & surf coach, Tehillah McGuinness
Typical surf lesson duration is 2-3 hours. All equipment included. You are welcome to use your own equipment if desired
Private surf lessons or group surf lessons available
1 hour group or private yoga classes with a qualified yoga instructor
All ages and levels of surfing and yoga experience welcome
Speak to one of our team about enhancing your package with e-bike adventures, catamaran cruises, luxury beach picnics, dune buggy tours, Pilates, snorkelling excursions, spa treatments and more
[contact-form-7 id="2830″ title="Contact form Ohana"]