Ohana® Cornwall Surf and Fitness Holidays in Newquay
Say yes to a fun-filled surf and fitness holiday like no other.  Enjoy the best waves in the UK, break personal surf and fitness barriers, build your confidence and head home feeling like the best version of yourself
Ohana® Surf and Fitness was founded by South African Pro Surfer, and long-distance running champion, Tehillah McGuinness. Tehillah has trained as an athlete for years, honing her surfing skills while also building her own physical fitness. Join Tee, as she invites you to experience the ultimate surf and fitness package in one of the most beautiful surfing and outdoor training destinations in the UK.
Cornwall is a dream destination for surfing and fitness lovers. The wave-rich Cornish coastline is known for having some of the best waves in all of Europe. The endless white sandy beaches and open spaces make it the perfect location for the ultimate surf and fitness holiday.
Our Surf and fitness holiday packages are tailored to your goals and length of stay in Cornwall. Choose between group surf lessons or private 1:1/private group surf classes and enjoy 1:1 personal training sessions, focusing on surf-specific fitness with our head surf coach and celebrity personal trainer, Tehillah McGuinness.
A typical day could have you honing your surf skills in the morning and breaking personal mental and physical barriers in the afternoon, during your personal training session at one of our breathtaking outdoor training locations. Our Surf and Fitness Packages are not all-inclusive retreats. Once your surf and fitness sessions are finished, the rest of the day is yours to unwind and explore all that Cornwall has to offer at your own leisure.
With that being said, our team will be more than happy to help you enhance your package with additional activities, please see below. Various accommodation options are also available.
At Ohana® Surf and Fitness, we are proud to have built a reputation for providing unparalleled surf and fitness coaching. Our internationally qualified surf and fitness coaches have vast experience in guiding surfers of all ages and abilities while helping you to get the most out of your fitness sessions.

About Your Surf Coach and Personal Trainer
Tehillah McGuinness is a South African Pro-Surfer and founder of Ohana® Surf and Fitness. Tehillah is a sponsored athlete, formerly ranked number 3 on the UK Pro Surf Tour Rankings. She also had a top 10 finish at the South African Championships.
As well as her surfing exploits, Tehillah is an accomplished athlete. A former Olympic long-distance hopeful, Tehillah has studied and worked in the health and fitness industry for over ten years. Tehillah excels at helping people unlock their full mental and physical capabilities.
At Ohana® Surf and Fitness, we have a team of vastly experienced health and fitness experts. On top of personal trainers, we have qualified Yoga and Pilates instructors, life coaches and a practicing dietitian with over twenty years of experience. 
In the waters, our internationally qualified surf instructors, who are also trained lifeguards will guide you through the fundamentals or work with you to take your surfing to the next level. Our main focus is to help you improve your own surfing and physical fitness in a safe and fun environment. 
Your Ohana® Cornwall Surf and Fitness Package 
All you need to know when booking your exciting surf and fitness holiday experience on the Cornish Coast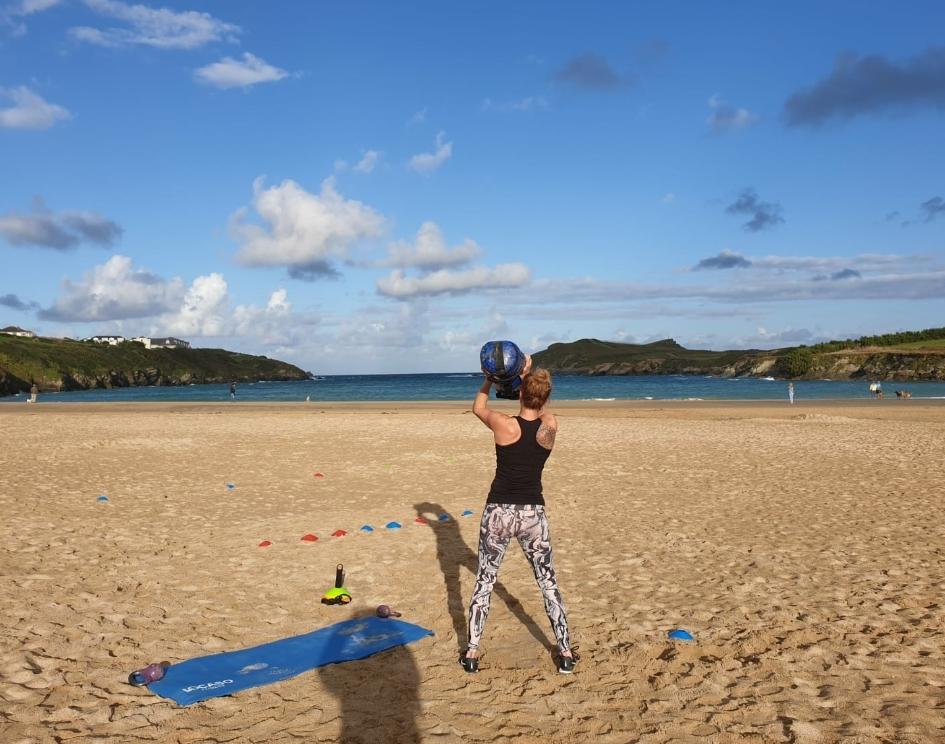 Contact us to book
Custom surf and fitness packages, tailored to your goals and length of stay
Flexible surf and fitness session start times
Surf lessons include theory & practical tuition with pro surfer & surf coach, Tehillah McGuinness
Typical surf lesson duration is 2-3 hours. All equipment included. You are welcome to use your own equipment if desired
Group surf lessons or private surf lessons available
Surf specific personal training sessions with qualified and celebrity personal trainer, Tehillah McGuinness. 
Typical personal training duration is 1 hour
Private 1:1 or private group personal training sessions available. All equipment provided
All ages and levels of surfing and fitness experience welcome
Fitness and nutrition plans also available.
Speak to one of our team about enhancing your package with e-bike adventures, coasteering, climbing, catamaran cruises, yoga, Pilates, snorkelling excursions, spa treatments and more
[contact-form-7 404 "Not Found"]