Ohana® Fuerteventura Kids Surf Lessons in Corralejo
Your kids will fall in love with the magic of surfing in a fun, safe and welcoming environment with our team of qualified coaches in paradise
It's no surprise that at Ohana® Surf and Fitness, we are all just really 'big kids', which is why we love introducing children to what could turn out to be a lifelong passion. Our team of surf coaches are highly experienced at teaching kids of all ages and levels of ability. 
Safety and quality tuition is our priority, which is why our kid's surf lessons are taught in small private groups  (4 students per instructor) and on a 1:1 basis. 
Our team take care to slowly introduce your child to the fundamentals of surfing, while educating them on the importance of staying safe in the sea and helping them to enjoy playing amongst the waves. We provide all the equipment needed ( surfboard, wetsuit and leash), along with our expert tuition.
From picking up a surfboard for the first time to standing on their first wave, Tehillah and our amazing team of surf instructors will be with your child every step of the way.  More than anything, our focus is on making your child's surfing experience an exciting and memorable one. 

About Your Surf Coach
Meet Tehillah McGuinness, a South African pro-surfer, middle and long-distance national running Champion and founder of Ohana® Surf & Fitness. Tehillah is a sponsored athlete, who formerly placed top in the South African Surf Championships and ranked as high as #3 on the UK Pro Surf Tour as well as top 10 on the European Longboard Rankings. 
Having specialized in Children's Health and Fitness studies, Tehillah has a stellar reputation for teaching kids the fundamentals of surfing. Whether your child is brand new to surfing or a young pro, Tehillah has the experience and patience to help develop and hone their skills.
When it comes to teaching kids, creating a friendly, safe and enjoyable environment is of high importance to Ohana®. Our goal is for all kids to leave the beach with a smile and a newfound love for surfing and the sea.
Not only are all of our surf coaches at Ohana® Surf and Fitness internationally qualified instructors, they are also qualified lifeguards. Together they have vast experience in teaching both the mental and physical components of surfing to students of all ages.
The Ohana® Surfing Holiday Experience For Kids 
All you need to know when booking your exciting kids surf lesson package in the Canary Islands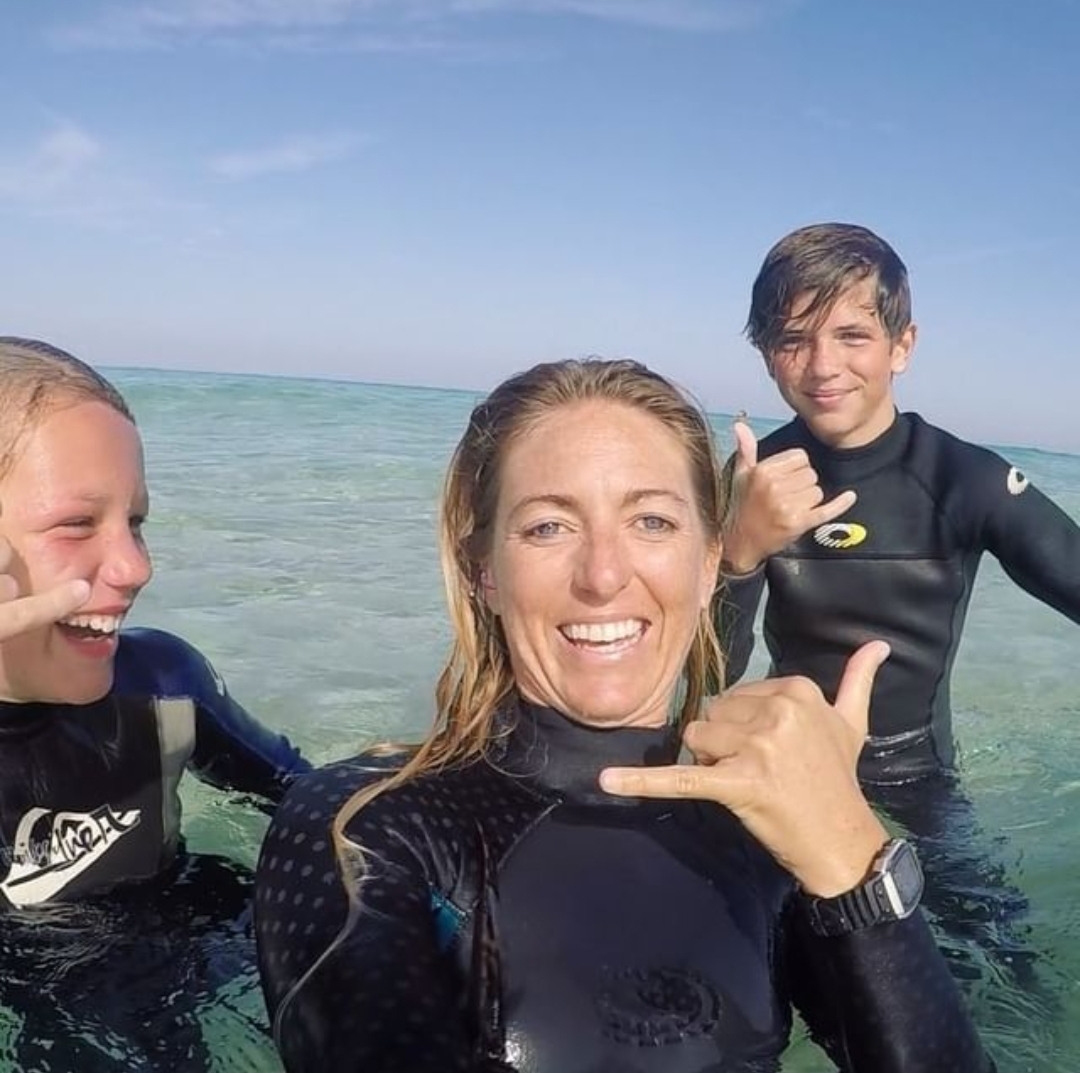 Contact us to book
Fun for everyone with our tailored kids surf lessons
Includes theory & practical  tuition with pro surfer & surf coach, Tehillah McGuinness
All ages and levels of surfing experience welcome
All equipment provided – surfboard, wetsuit, leash and wax 
Typical duration  2-3 hours
Flexible lesson start times
Speak to one of our team about enhancing your package with snorkelling excursions, luxury beach picnics, catamaran cruises, dune buggy tours and more.
[clients slide_show= "1" slide_show_speed= "4000" hide_in= "" css_id= "" css_classes= "" animate= "1" animation_type= "none" animation_delay= "0" animation_duration= "300" padding= '{"d":""}' margin= '{"d":""}' border_style= '{"d":"solid","l":"solid","t":"solid","m":"solid"}' border= '{"d":""}' border_color= "" border_radius= "" box_shadow= "0px 0px 0px 0px rgba(0,0,0,0)" key= "BkXA3Lg3G4"][client image= "https://ohanasurfandfitness.com/wp-content/uploads/2019/01/press-logo-weheartliving.png" link= "/press/" new_tab= "0" default_image_style= "color" hover_image_style= "black_white" hide_in= "" css_id= "" css_classes= "" animate= "1" animation_type= "none" animation_delay= "0" animation_duration= "300" padding= '{"d":""}' margin= '{"d":""}' border_style= '{"d":"solid","l":"solid","t":"solid","m":"solid"}' border= '{"d":""}' border_color= "" border_radius= "" box_shadow= "0px 0px 0px 0px rgba(0,0,0,0)" key= "ByNC2Ix2fN"][/client][client image= "https://ohanasurfandfitness.com/wp-content/uploads/2019/01/press-logo-surfgirl.png" link= "/press/" new_tab= "0" default_image_style= "color" hover_image_style= "black_white" hide_in= "" css_id= "" css_classes= "" animate= "1" animation_type= "none" animation_delay= "0" animation_duration= "300" padding= '{"d":""}' margin= '{"d":""}' border_style= '{"d":"solid","l":"solid","t":"solid","m":"solid"}' border= '{"d":""}' border_color= "" border_radius= "" box_shadow= "0px 0px 0px 0px rgba(0,0,0,0)" key= "HyHC2Ix3GE"][/client][client image= "https://ohanasurfandfitness.com/wp-content/uploads/2019/01/press-logo-sundried.png" link= "/press/" new_tab= "0" default_image_style= "color" hover_image_style= "black_white" hide_in= "" css_id= "" css_classes= "" animate= "1" animation_type= "none" animation_delay= "0" animation_duration= "300" padding= '{"d":""}' margin= '{"d":""}' border_style= '{"d":"solid","l":"solid","t":"solid","m":"solid"}' border= '{"d":""}' border_color= "" border_radius= "" box_shadow= "0px 0px 0px 0px rgba(0,0,0,0)" key= "rJURnUlnGV"][/client][client image= "https://ohanasurfandfitness.com/wp-content/uploads/2019/01/press-logo-skysports.png" link= "/press/" new_tab= "0" default_image_style= "color" hover_image_style= "black_white" hide_in= "" css_id= "" css_classes= "" animate= "1" animation_type= "none" animation_delay= "0" animation_duration= "300" padding= '{"d":""}' margin= '{"d":""}' border_style= '{"d":"solid","l":"solid","t":"solid","m":"solid"}' border= '{"d":""}' border_color= "" border_radius= "" box_shadow= "0px 0px 0px 0px rgba(0,0,0,0)" key= "HJv03UghGE"][/client][client image= "https://ohanasurfandfitness.com/wp-content/uploads/2019/01/press-logo-huffpost.png" link= "/press/" new_tab= "0" default_image_style= "color" hover_image_style= "black_white" hide_in= "" css_id= "" css_classes= "" animate= "1" animation_type= "none" animation_delay= "0" animation_duration= "300" padding= '{"d":""}' margin= '{"d":""}' border_style= '{"d":"solid","l":"solid","t":"solid","m":"solid"}' border= '{"d":""}' border_color= "" border_radius= "" box_shadow= "0px 0px 0px 0px rgba(0,0,0,0)" key= "HJ_0n8e2zE"][/client][client image= "https://ohanasurfandfitness.com/wp-content/uploads/2019/01/press-logo-hfe.png" link= "/press/" new_tab= "0" default_image_style= "color" hover_image_style= "black_white" hide_in= "" css_id= "" css_classes= "" animate= "1" animation_type= "none" animation_delay= "0" animation_duration= "300" padding= '{"d":""}' margin= '{"d":""}' border_style= '{"d":"solid","l":"solid","t":"solid","m":"solid"}' border= '{"d":""}' border_color= "" border_radius= "" box_shadow= "0px 0px 0px 0px rgba(0,0,0,0)" key= "ryF0h8x2fE"][/client][/clients]
[contact-form-7 404 "Not Found"]