Ohana™ Cornwall Group Surfing Packages in Newquay
Whether you are part of a university, a sports club, a corporate gathering or social club, Ohana™ cornwall is the perfect place to enjoy a group surfing adventure like no other!
It's no suprise that Cornwall is the perfect location for a group holiday surf retreat. The Cornish Coast is often referred to as England's Capital of Surfing. The beautiful weather, rugged beaches and the idyllic coastline is picture-perfect. Cornwall, with its laid-back lifestyle and world class surf conditions for all levels, exudes a fun and vibrant energy that comes from being in the UK's surfing paradise. 
At Ohana™ Surf and Fitness, we love working with groups. Our tailored  private group surf packages are perfect for sports clubs, corporate events, universities, social clubs and informal gatherings. We know the perfect spots to catch your first wave and where best to challenge yourself, while creating the perfect group surfing experience.
With flexible surf lesson start times along with a list of exciting additional activities to choose from if desired, we look forward to helping you create your perfect surfing adventure, while fitting it around your schedule as best we can.
create your own package! Add yoga, Pilates, personal Training, climbing, coasteering, catamaran cruises, snorkelling excursions and more to your surfing holiday!
Please see below for more info

Meet Your Coach, Tehillah
Meet Tehillah McGuinness, a South African pro-surfer, middle and long distance National Running Champion and founder of Ohana™ Surf & Fitness. Tehillah is a sponsored athlete who formerly placed top ten in the South African Surf Championships and ranked as high as #3 on the UK Pro Surf Tour as well as top 10 on the European Longboard Rankings. 
Besides competing at a top level, Tehillah has dedicated her life to spreading her passion and love of surfing. She spends her time passing on her knowledge and experience that she has gained from competing at the highest level.  
Ohana™ Surf & Fitness prides itself on having family values at the core of everything they do. Tehillah and her team of internationally qualified surf coaches, who are all trained lifeguards have grown up by the sea and together they have decades of experience in the water as well as passing their love of surfing on to people of all backgrounds.
They are equally proficient at coaching established surfers as they are first-timers and love taking groups under their wings, teaching them the fundamentals of surfing in a relaxed and professional environment. Ohana's™ teaching philosophy is based on creating joyous memories to last a lifetime and we can't wait to share that with you!
Your Ohana™ Group Surf Holiday in Newquay, Cornwall 
All you need to know when booking your exciting group surfing lessons on the Cornish Coast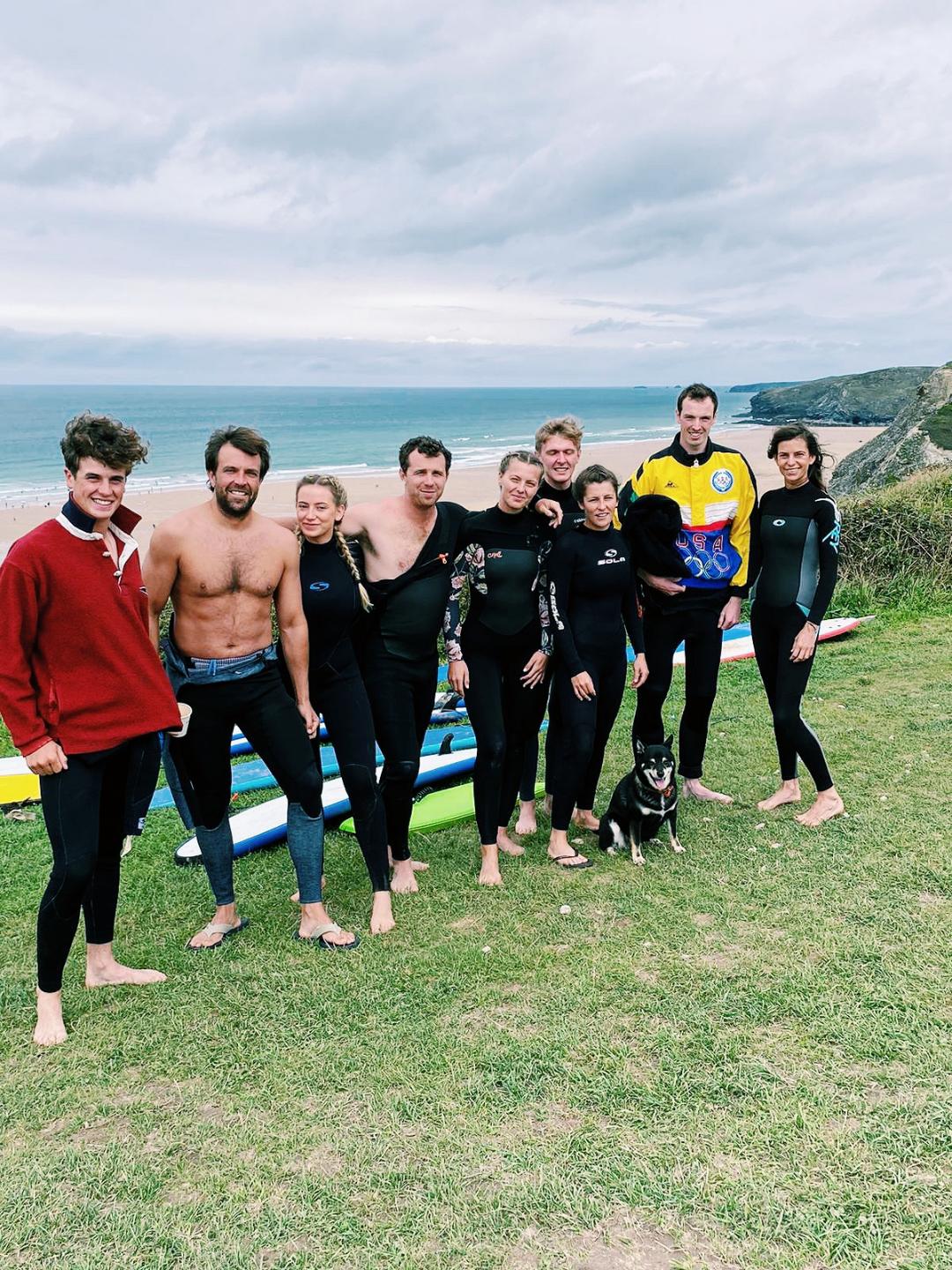 Contact us to book
Surf lessons are provided in a fun private group atmosphere.
Includes theory & practical tuition with pro surfer & surf coach, Tehillah McGuinness. Additional coaches available depending on group size. 
All ages and levels of surfing experience welcome
All equipment provided – surfboard, wetsuit, leash and wax 
Typical duration  2-3 hours
Flexible lesson start times
Speak to one of our team about enhancing your package with e-bike tours, climbing, coasteering, yoga, Pilates, personal training, snorkelling excursions, spa treatments and more.
[contact-form-7 404 "Not Found"]