Ohana™ Cornwall Group Holiday Packages in Newquay
Whether you are part of a university, a sports club, a corporate gathering or social club, Ohana cornwall is the perfect place to enjoy a group surfing adventure.
Cornwall is the perfect location for a group holiday retreat. The Cornish Coast is often referred to as England's Capital of Surfing. The beautiful weather, rugged beaches and idyllic coastline is picture perfect. The surf is amazing and there's a fun, vibrant energy that comes from being in UK's surfing paradise. 
At Ohana Surf and Fitness, we love working with groups. Our tailored packages are perfect for corporate retreats. But no matter if you are part of a sports club, university, social club or informal gathering, our group surf packages offer something a little different. 
Ohana's group packages typically take place over 3 or 5 day retreats. However, we can work with you to create a group surf holiday that fits your group's availability. Packages include one surf lesson per day. Ohana provide all equipment and wetsuits, with lessons usually lasting approx 4-5 hours. 
Our team at Ohana Surf and Fitness Cornwall have lots of experience working with groups. We can offer advice on accommodation, nightlife and additional activities. These include e-bike tours, yacht excursions and spa treatments. Be sure to ask one of our team for more details. 

Meet Your Coach, Tehillah
Tehillah McGuinness is a South African Pro-Surfer and founder of Ohana Surf and Fitness. Tehillah is a sponsored athlete, formerly ranked number 3 on the UK Pro Surf Tour Rankings. She also had a top 10 finish at the South African Championships.
Tehillah and her team now share a lifetime of learning with all the students of Ohana Surf and Fitness. Our team of surf instructors have vast experience at teaching the fundamentals of surfing to people of all ages and levels of ability. 
All our coaching staff are internationally qualified surf instructors. As well as that, they are all also trained and certified as lifeguards. Helping people to improve their surfing is one thing, creating a fun and safe environment is what's most important. 
Tehillah and her team have spent a lifetime surfing the waters of Cornwall. They know the perfect spots to catch your first wave and where best to challenge yourself. They also know exactly how to create the perfect group surfing experience.
Your Ohana™ Group Surf Holiday in Newquay, Cornwall 
All you need to know when booking your exciting group surfing lessons on the Cornish Coast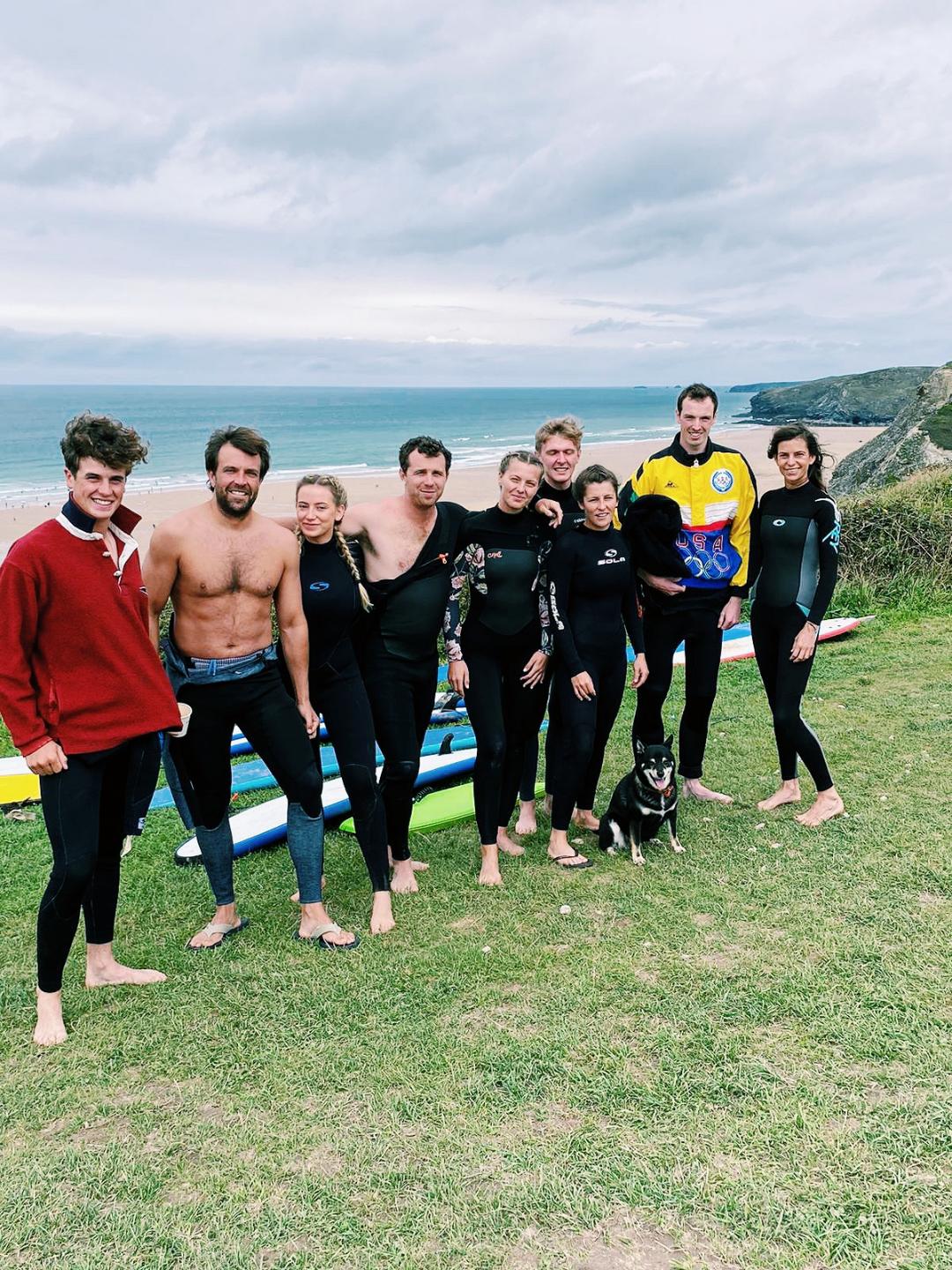 Contact us to book
Surf lessons are provided in private group atmosphere.
Multiple instructors per group depending on group size. 
Ohana provides all wetsuits and surfboards.
Insurance and hut to beach transport included in price.
Lessons run for approx 2-3 hours.
All ages and levels of surfing ability welcome.
Enhance your group package with a range of extras including yacht excursions, e-bike tours and spa treatments.
[contact-form-7 404 "Not Found"]