Ohana® Fuerteventura Family Surf Lessons in Corralejo
Learn to surf or improve your surfing ability as a family. Sharing the waves with siblings and parents is the ultimate way to fuel a life long passion for surfing.
As Ohana® Surf and Fitness is a family-run surf school, working with other families and teaching them the fundamentals of surfing is what we do best. Your family surf lessons are provided in a private group environment. This means that you and your family enjoy the luxury of having your own private surf instructor who is able to cater to each person's individual level while maintaining a fun family group dynamic.
Here at Ohana® we provide everything you need for your family surf lessons. Expert guidance and tuition, as well as all equipment needed for your lesson (surfboards, wetsuits and leashes). Our family surf lessons last between 2-3 hours and as we understand the nature of family holidays, we are able to provide flexible lesson start times, according to conditions. 
Creating a safe and relaxed environment is our top priority at Ohana® Surf and Fitness. All our instructors are passionate about surfing and love creating a positive family environment while helping you create memories to last a lifetime!
Speak to our team about enhancing your package with catamaran cruises, e-bike tours, luxury beach picnics, dune buggy tours, snorkelling excursions and more. Please see below.

About Your Surf Coach
Meet Tehillah McGuinness, a South African pro-surfer, middle and long-distance national running Champion and founder of Ohana® Surf & Fitness. Tehillah is a sponsored athlete, who formerly placed top in the South African Surf Championships and ranked as high as #3 on the UK Pro Surf Tour as well as top 10 on the European Longboard Rankings. 
Alongside competing, Tehillah has spent years sharing her knowledge and love of surfing with students of all ages. As someone who took up surfing from a very young age, Tehillah knows exactly how to create the perfect learning environment for kids and adults alike.
Between us, our team of surf instructors at Ohana® Surf and Fitness have decades of experience teaching students and families of all ages and abilities. We know the importance of mastering the basics of surfing first, while keeping the focus on 'fun'!
Not only are all of our surf coaches at Ohana® Surf and Fitness internationally qualified instructors, they are also qualified lifeguards. Together they have vast experience in teaching both the mental and physical components of surfing.
Your Ohana® Family Surfing Holiday Experience
All you need to know when booking your exciting family surf lesson package in the Canary Islands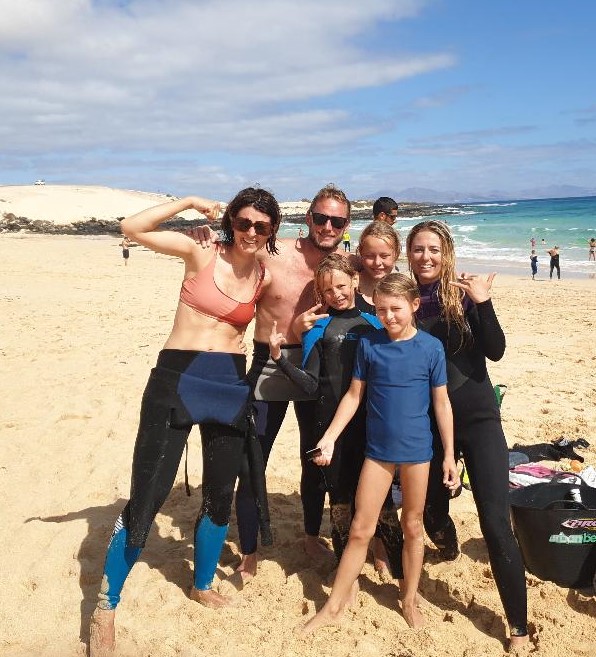 Contact us to book
Family fun for everyone
Includes theory & practical  tuition with pro surfer & surf coach, Tehillah McGuinness
All ages and levels of surfing experience welcome
All equipment provided – surfboard, wetsuit, leash and wax 
Typical duration  2-3 hours
Flexible lesson start times
Speak to one of our team about enhancing your package with e-bike tours, yoga, Pilates, personal training, luxury beach picnics,  catamaran cruises, dune buggy tours, snorkelling excursions, spa treatments and more.
[contact-form-7 id="2830″ title="Contact form Ohana"]